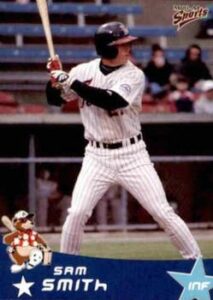 DS Tigers 11U – Reid
Level: AA/AAA
Head Coach: Neil Reid
Contact: zerobravo1@gmail.com
DS Tigers 11U – Keller
Level: AA
Head Coach: Chase Keller
Contact: Chase.a.keller@gmail.com
---
Professional Instructor Sam Smith
Coach Sam was a member of the Rockies organization from 1997-2003 and selected in the 6th round of the MLB draft. He has over 20 years of private professional baseball instruction experience including lessons, camps, and clinics. Coach Sam will help select our Fall 2021 team and help manage lineup/positions as well.
Additional Staff
Keith Cunningham
Coach Keith has been coaching youth baseball for the past 12 years in Michigan and Texas. A former college quarterback at the University of Illinois, Coach Keith brings passion, integrity, leadership and a love for baseball to the diamond. Tiger baseball will be focused on four core principles: having fun, playing smart and playing hard while involving family engagement on and off the field.
Andrew Scott
Andrew is from St. John's, Newfoundland. Growing up, his two passions were baseball and soccer, and he played both through high school. He ended his baseball career after high school when he was selected to play provincial soccer at the national level and went on to play collegiate soccer for 5 years at Memorial University of Newfoundland, a Division I program in Canada. He is an avid baseball fan, and has coached both his kids in both baseball and soccer. Andrew also received a certificate in kinesiology was also a certified personal trainer during his college career and prior to starting a family, but still has a passion for strength and conditioning.